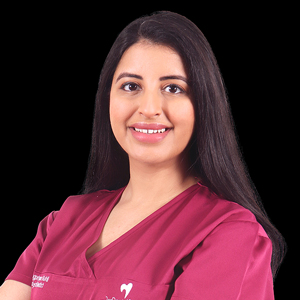 Principal Dentist
Special interest in Orthodontic treatment and aesthetic and restorative dentistry
BDS Pandit Bhagwat Dayal Sharma University of Health Sciences 2015
GDC No. 268148
Dr. Kohli qualified in Bachelors of Dental Surgery from India in 2014
She won many accolades as a student, amongst which were the Top 10 Student Clinicians of India in 2013.
She was also top 6 panelists in her university, hosting podcasts on Oral Dental care.
She also did research work as a student on Stereolithography - 3D Printing in dentistry, and won many awards for the same in 2012.
She has had many articles published in renowned publications including PubMed for her research on Tooth shade selection.
After having completed her Overseas Registration Examination in the UK in 2016, Dr. Kohli completed her training and worked under the NHS until 2020.
She is now the practice owner of Jes Dental Studio.
Her main area of interest is Aesthetic and Restorative Dentistry and has completed her 1 year program in the same.
She is a certified provider of Invisalign and provides all cosmetic treatments including veneers and composite bonding.
She is calm, friendly and enjoys working with nervous patients, helping them overcome their anxiety and phobias and is certified in Nervous and Anxious patients.
She prides herself on good quality dentistry and is extensively trained in the aspect of aesthetic/cosmetic restoration.
Outside of Dentistry, Dr. Kohli enjoys spending time with her family, travelling, and loves to push her culinary skills and try to cook various world cuisines.